Conditions Treatable Through Acupuncture and Moxibustion
Neurological
Headaches, Dizziness, Insomnia, Nervousness, Numbness, Depression.
Eyes
Conjunctivitis, Styes, Watery Eyes, Dry Eye.
Ears,Nose & Thoroat
Nasal/Sinus Congestion, Runny Nose, Middle Ear Infection, Tonsillitis.
Respiratory
Colds Asthma.
Muscles
Back Pain, Neck Cricks, Whiplash,Sprains, Rheumatism, Knee pain, Tendinitis.
Cardiovascular
Abnormal Blood Pressure, Anemia.
Gynecological
Menopause, Morning Sickness, PMS, Breech Birth.
Pediatric
Bed Wetting Colie.
Others
Diabetes, Motion Sickness, Rashes, Insect Stings, Hemorrhoids, Hay Fever, Cold Hands and Feet, Atopy, Toothaches, Shingles.
These are just some examples. There are also other illnesses that can be
are just some examples. There are also other illnesses that can be
To Those New to Acupuncture
The Healing Process
Improving the flow of Ki increases the body's natural healing power,curing
illness and making the body less susceptible to disease.
Painless
We use needles as thin as strands of hair.
Frequency of Treatment
Once a day is best,but every other day or once a week is also effective.
Child Acupuncture
We treat infants. Children grow naturally healthy. Treatment to reduce chances of childbirth complications such as breech birth.
Timing of Treatment
The sooner you have treatment after the problem first occurs, the sooner the treatment works.Acute medical conditions take longer to treat.
Points to Remember
To speed the healing process. A void fatique,Get enough sleep. A void spicy food and eat foods that are easily digested. Do not overeat.
Tachikawa Price List
Adult

¥3150
College student

¥2625
Highschool student

¥2100
Junior Highschool student/Pupil

¥1575
Infant

¥1050
Fukuhana Clinic Tachikawa
Tel.042-529-6464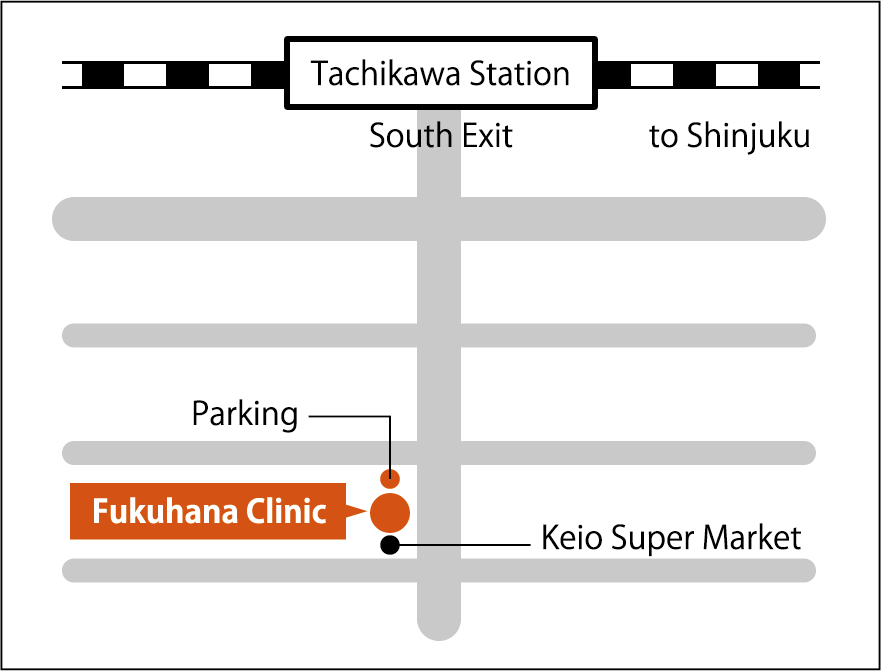 Apt.203 3-18-5 Shibazaki-cho Tachikawa
〒190-0023
8-minute walk from JR Tachikawa Station.Parking available.
Please call us at 042-529-6464 reservations.

Closed on Sundays and National Holidays.

Hours 8:30AM~6:30PM(Tachikawa Clinic) 1:00PM~reservations.

Please contact us : info@fukuhana.com